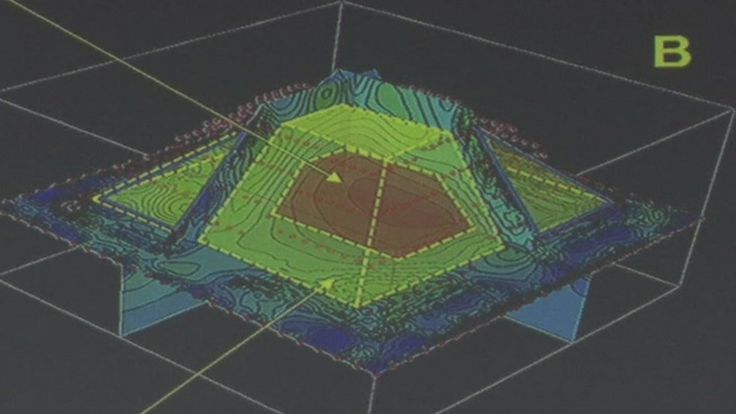 3D Imaging of the discovery within the famous Kukulkan pyramid at Chichen Itza.
Image Courtesy of the British Broadcast Channel.
November 17, 2016.
The pyramid of Kukulkan is an ancient religious structure built by the Mayans whose culture boomed around the classical period from 250 to 900 AD. The structure seems to be built up in even intervals, BBC gives a good description on how the pyramids were constructed "A 10-metre-tall pyramid was found within another 20-meter structure, which itself is enveloped by the 30-meter exterior" (Agence France-Presse,1). The pyramid was recently found to have been constructed atop two more structures which predate it. The three structures were built in a manner resembling how Russian nesting dolls are made. As to the reason for this construction style, BBC states "Structures were built on top of each other for various reasons, including deterioration or the arrival of new leadership" (Agence France-Presse,1).
The discovery of these structures has a huge implication on what we know about Mayan culture. This structure was not only an important religious to the Maya but also built atop a sacred sinkhole lake. These successive structures would have been of great importance to the Maya, So if it had been built in three stages that would mean a great change in the Mayan people had to have occurred during those times.
To read the full article, click here
Associated Press, The Guardian, August 13, 2015.

National Museum of the American Indian.

The University of Texas at Austin: Tarleton Law Library: Jamail Center for Legal Research

Maya Rise & Fall Map

Ancient Observatories, Exploratorium.

Institute of Archaeology Belmopan Belize

National Institute of Culture and History

Maya Setting
Pre History
Mayan Time Periods
The Spanish Conquest
The Maya Cultural Achievements
Astronomy, Calendrics and Mathematics
Agriculture
Writing
Cosmology and Religion
Architecture and Art

National Museum of the American Indian Youtube.